Each physiotherapist has a responsibility to make corrections to any website or social media account that promotes their practice. Section 102 of The Health Professions Act establishes that regulated members of a college "shall not engage in advertising that is untruthful, inaccurate or otherwise capable of misleading or misinforming the public." Every day in Alberta, many physiotherapists market their services in a professional manner and in alignment with the expectations articulated in the Advertising Standards of Practice and legislation. However, some issues remain.
The Advertising Compliance Verification Tool was established as a means for upholding legislation and the expectations found in the Standards of Practice. The tool is designed to screen the websites and social media accounts linked to physiotherapists' professional practice and the clinics they provide services in. As the software works its way through this content it highlights certain words or phrases and sends a report back to the College. The tool has been sifting through websites and social media for the past couple of months and the early results are enlightening:
Websites are more often being flagged than social media accounts.
Superlative language is the most common issue.
Now that we have been able to identify some early trends, the goal is to provide information and support to physiotherapists so that they can self-screen the websites and social media accounts that advertise their services. Physiotherapists are advised to ensure corrections are made as needed prior to getting a letter from the College highlighting concerns. Due to websites being a more common area of concern, this article will walk through common physiotherapy website content and highlight where we can find the most common issues. First, though we are going to highlight superlative language, what it means, and where we find mistakes on websites.
Superlative Language
The definition found in the 2023 version of the Core Standards of Practice:
Superlative – "an expression of abundant praise."1 "Excessive or exaggerated; of the highest order, quality, or degree; surpassing or superior to all others."2 In physiotherapy practice, statements such as "expert", "best" or "number 1" are examples of superlative statements.
Examples of superlative language were frequently found on the websites the tool has screened. If there is anywhere on your or your clinic's website that tries to express that you are better than another physiotherapist or another clinic, then this counts as superlative language and it would be wise to remove it prior to getting a letter from the Registrar or being fined by the College.
Terms such as "best" or "expert" and variations of, such as "elite, advanced, premier" are used to indicate you are superior to other physiotherapists.
The use of the terms "specialist", "specialized", or "specialization" have been an ongoing issue for many years. In addition to being superlatives, the use of terms indicating or implying specialization is dictated by Council's decision that certain requirements must be met. You can read more about it here. If you haven't applied to the College and received authority to use the title "Clinical Specialist", you can't use it or similar terms and are advised to remove this language from your website.
But the College uses the phrase "movement specialist" so why can't I?
It is true that the College has these terms on the CPTA's About Physiotherapy webpage that states the following:
"Physiotherapists are experts on how your body moves and what stops it from moving. As movement specialists, physiotherapists will use a hands-on approach to help you restore, maximize and maintain movement for the rest of your life."
The College uses this term to speak about the physiotherapy profession as a whole and to explain what physiotherapists do for the public. The College is not specifically referring to an individual. If a website you are associated with uses the term "Movement Expert" or "Movement Specialist" you should be very clear that you are discussing the profession as a whole and not identifying an individual or the group of physiotherapists in the clinic.
Now that we have hopefully cleared up the use of superlative language, let's walk through a typical website for a physiotherapy clinic.
Home Pages
Physiotherapy is a competitive market and as a physiotherapist or clinic, you want to stand out and highlight the skills, the team, and the overall clinic identity to attempt to set you apart from your competition. However, there are many instances where websites advertising physiotherapy services use words, phrases, or icons that are in direct contradiction to the Advertising Standard of Practice.
The physiotherapist refrains from using advertising that:
Makes comparative or superlative statements about service quality, health providers, and products and/or endorses products for financial gain.
Do These Look Familiar??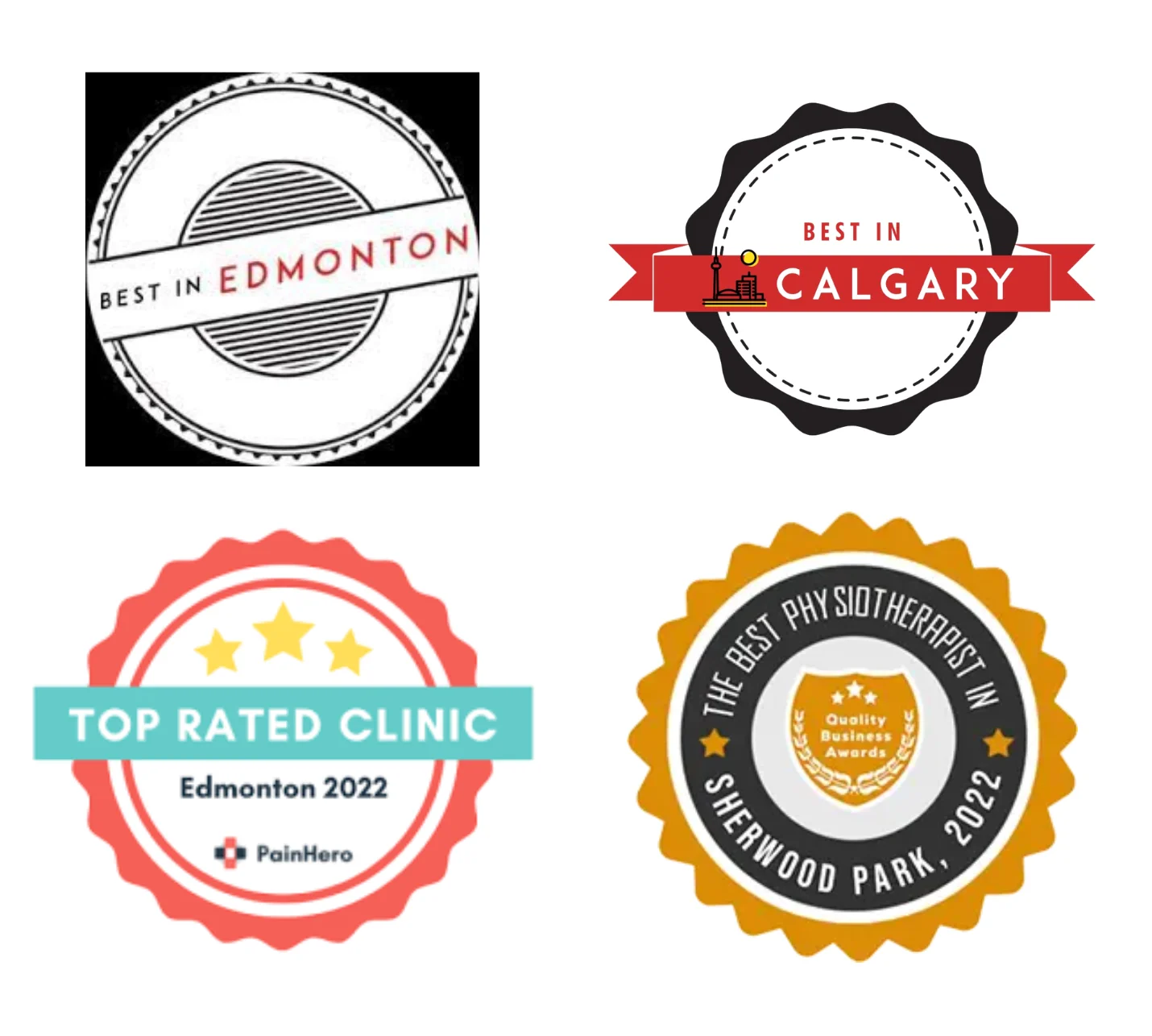 Whether it is an icon like the ones above, a link to an award, or a comment like "voted best" or "top-rated", they are all in contravention of the Standard. We have brought this up previously here, here and here. If icons like these are on the website or webpage where your services are promoted, they need to be removed.
As stated in the first section of this article, a physiotherapist has a responsibility to make corrections to any website or social media account that promotes their practice. This may include reaching out to management, ownership, or a third-party advertising and marketing company you employ to manage your website.
Staff Bios
The "Our Team" section of a website provides the opportunity to walk a patient through your skill sets, your treatment philosophy, your background and professional accomplishments. It is a great way to set yourself apart from other physiotherapists. It is relatively easy to tell your story to the general public while maintaining the expectations found in the Standards of Practice.
Two common issues we see in staff biographies are:
You are not a specialist nor do you specialize in anything unless you have met the requirements set out by College Council. The requirements can be found here.
You are not a doctor while you are providing physiotherapy services to the public.
Section 128(7) of the Health Professions Act states that "No person shall use the title doctor or the abbreviation Dr. alone or in combination with other words in connection with providing a health service unless the person is authorized to use the title or abbreviation by this Act or another enactment." Council has decided that even if you have a DPT or PhD you cannot use the title doctor or prefix Dr. while providing physiotherapy services to the public. You can read more about that here, or listen to a podcast about it here.
Services
Advertising needs to be accurate, verifiable and true. There are many different modalities and treatment techniques available for physiotherapists to use when treating a patient's injury or condition. You may advertise techniques and/or modalities that you use most often in clinical practice with good results, but you need to be realistic with what you are telling patients when it comes to the effectiveness of the intervention. Regardless of the modality or treatment technique in question, the physiotherapist has a responsibility to provide accurate representations of a therapy's effectiveness in treating a condition or injury. Statements that guarantee any result are false as no one treatment, modality, or practice works for everybody. Even claims such as: "Over 80% of patients achieve a successful resolution of their symptoms in less than 5 sessions of Shockwave Therapy" should be listed with a reference in order to meet the requirement of being verifiable.
It is also important to be honest and transparent regarding the research you are providing reference to. Was the research made by the company that sells the modality? Was the researcher paid to conduct the research 'independently' or did they receive other benefits? Does the research apply to your patient? Sometimes in the clinic, I have an ACL patient who is 55 and the research most often looks at those under the age of 30. So, does that research really apply? If not, how do I make it relate to my older patient? Suggesting that the results apply to your patient when you know the studied population was fundamentally different is at odds with the requirements to be truthful and accurate.
Booking Portals
Online booking is a great option for both patients and physiotherapists to reduce barriers to accessing physiotherapy care and have become common additions to most websites. Most of the software I am aware of allows the patient to book initial assessments, follow-up appointments, complete intake forms, consent forms, and outcome measures.
The information found in the booking portals such as staff bios and descriptions of treatments available must continue to reflect the expectations found in the Advertising Standard of Practice.
Online booking portals also present an appropriate space to clearly communicate your fees to the general public. Fees for services posted on the booking portals should also follow the expectations found in the Standards of Practice. That means that all fees listed should be comprehensive, transparent, and accurate. There should be no advertising of "free consultation" or "no obligation consultation". It is recognized that the physiotherapist may offer free services consistent with the advertising standard of practice however the use of this on websites, social media or any form of advertisement to entice patients into the practice setting is not permitted.
Creating awareness of a physiotherapist's responsibility for the online content that promotes their services was the main goal of this article. Reviewing each of the sections found on a typical physiotherapist's website from the landing page to staff bios, to the descriptions of the services provided, and the booking portal is meant to educate physiotherapists on the common issues found in each section. Although this Good Practice article focuses on advertising concerns on websites, it is important to note that other concerns were noticed on social media accounts linked to physiotherapy practice sites. Physiotherapists need to be aware of the expectations established in the Standards of Practice and apply them to social media accounts and websites where their services are promoted to avoid a letter from the Registrar or a fine related to a finding from the Advertising Compliance Verification Tool.
References:
Fitzgerald H, Howell T, Pontisso R. Superlative. Oxford Canadian Dictionary. 2nd ed. Toronto: Oxford University Press; 2006.
Free Dictionary. Superlative. Available at https://www.thefreedictionary.com/superlative. Accessed August 28, 2023.